News
Tennis News | From Losing Mind to Training Comeback
On July 20, 2023 by Ivica Berkov
Naomi Osaka is back to training
Former world number one Naomi Osaka has returned to training, just a couple of weeks after giving birth. The 25-year-old has been away from tennis with some stress-related issues and has returned to the news with the arrival of her baby. However, interestingly, the Japanese tennis star has also returned to training, much to the surprise and delight of her fans who were clearly not expecting to see her return to training so soon. The four-time Grand Slam winner has been very vocal about mental health and because of that reason, she has also taken long breaks. Her last match was in September 2022 and many were unaware of the reason behind the latest break but it was later revealed that she was pregnant. Osaka broke onto the scene following her triumph at the 2018 US Open after beating legendary Serena Williams in straight sets with a score of 6–2, 6–4. After that victory, she went on to win three more Grand Slam titles — Australian Open in 2019 and 2021 and the US Open in 2020). However, she has never managed to play in the fourth round or beyond of the remaining two Grand Slams — French Open and Wimbledon.
Source: tennisuptodate.com/wta/video-osaka-miraculously-back-in-fitness-training-two-weeks-after-giving-birth-as-australian-open-preparation-begins
Moutet: "I lost my mind".
French tennis player Corentin Moutet has revealed the reason behind producing an underarm serve in the Hall of Fame Open. The 24-year-old produced an unconventional serve during the match against America's John Isner in the second-round clash. Moutet, while responding to a video shared on the social media platform Twitter, stated that he did that because of his opponent who was simply too hot to handle. "Guy was too good haha I lost my mind didn't know which tactic to try anymore. Congrats to him," he tweeted. Moutet was correct as he was clearly the second-best in the clash and was defeated in straight sets with a score of 6-4, 6-4. The result would've been a disappointing one for Moutet who is just coming on the back of a disappointing Wimbledon 2023. The Neuilly-sur-Seine-born faced an exit from the men's singles category second round of the third Grand Slam of the year after losing to Russia's Roman Safiullin with a score of 7-5, 6-3, 7-6. In the men's doubles category, it wasn't any better for Moutet as he was knocked out from the first round along with his partner Constant Lestienne lost to the American duo of Reese Stalder and David Pel in straight sets with a score of 6-3, 6-2.
Source: tennisuptodate.com/atp/video-i-lost-my-mind-didnt-know-which-tactic-to-try-moutet-reveals-rationale-behind-baffling-underarm-serve-losing-to-isner-in-newport
Welcome back Simona
Simona Halep has surprisingly appeared on the entry list for the 2023 US Open, despite her suspension. The former world No. 1 has not been seen on the court since the 2022 US Open, where she suffered a first-round defeat against Ukrainian player Daria Snigur. Halep had entered the tournament as one of the contenders, coming off a recent victory at the Canada Open two weeks prior and holding the world No. 6 ranking.
Shortly after her exit from the US Open, the Romanian announced that she would be ending her season to undergo nose surgery. A few weeks later, news broke of a provisional suspension for Halep after failing an anti-doping test. As of now, Halep's appeal has not been heard, as the court has extended the response period to give her the opportunity to appeal, as she denies any intentional doping violations. Many tennis players and coaches who know her well, such as Chris Evert, Patrick Mouratoglou, Darren Cahill, Ashleigh Barty, and her compatriot Sorana Cirstea, have come forward to support her.
Despite the suspension, it was surprising to see Simona Halep's name appear on the official entry list for the US Open, where she would enter with a ranking of world No. 55. The entry indicates that Halep is provisionally suspended, so her participation depends on whether the court responds before the start of the tournament. As of now, the suspension remains in effect. However, the inclusion of Halep's name on the entry list for this Grand Slam may signal that her appeal could receive a response soon. In the event of a positive outcome, the US Open would welcome the former French Open and Wimbledon champion back to the competition. Halep has been one of the most prominent and consistent players in the last decade. In addition to her two Grand Slam titles, she has reached three finals (two at Roland Garros and one at the Australian Open), won 24 singles titles, and finished two consecutive years as the world No. 1 (2017 and 2018). The Romanian also holds the record for being the third-highest-earning female tennis player in terms of prize money, behind only Serena Williams and Venus Williams.
Source: tennisuptodate.com/wta/halep-surprisingly-appears-in-first-grand-slam-entry-list-of-the-year-at-2023-us-open
Social Media Witch Hunt
Greece tennis star Maria Sakkari and Russia's Daria Kasatkina have been criticised by some fans on social media after they opted to side with Shuai Zhang in her line controversy with Amarissa Toth. The tennis world was rocked by the events that took place during the Hungary Open where Zhang retired from the match first-round match against Toth after a line controversy which left her in tears as well. During the same match, Toth went on to remove the ball mark near the line which was a matter of controversy, something that did not go well with Shuai who was even booed by the crowd sitting in the arena. Following that incident, a lot of stars supported the Chinese tennis star and criticised Toth. Out of them, some were extremely critical. Sakkari and Kasatkina were a few of them as the former event went on to ask for a ban for Toth in a post on her social media. That did not go down well with some fans on Twitter who asked the two to get off their 'high horses'.
Source: tennisuptodate.com/wta/sakkari-and-kasatkina-among-players-slated-for-witch-hunt-during-hungarian-grand-prix-controversy-as-greek-calls-for-toth-to-be-banned-from-wta-tour
Ruud Seals New Victory
Norway's tennis star Casper Ruud has made a winning return to on-court action in the Swedish Open. The 24-year-old defeated Alexander Shevchenko in straight sets in the round of 16 with a score of 6-2, 6-4 on Thursday. Following the match, Ruud stated that it was good to win the match, considering how 'tough' it was last year. "I am very happy to win. It was tough here for me last year, losing in my first match, so to get a win is good, in front of a Scandinavian crowd," he siad. "It was very difficult with the wind today, conditions were a bit challenging but I was able to do good enough." The victory will definitely going to give Ruud the much-needed boost for matches ahead after a rather average outing in Wimbledon 2023. He was knocked out in a surprising result during the second round of the third Grand Slam of the year by Britain's Liam Broady in a five-set thriller with a score of 6-4, 3-6, 4-6, 6-3, 6-0.
Source: tennisuptodate.com/atp/ruud-seals-victory-on-return-to-action-after-wimbledon-reaches-bastad-open-quarter-finals
Denis Shapovalov Announced Engagement
Canadian tennis player Denis Shapovalov has announced engagement to fellow tennis player Sweden's Mirjam Bjorklund. The two tennis stars have been dating for a while and on Thursday, Shapovalov announced the development on his official Twitter account.
The news will be a good one for the couple, especially considering that both are having a struggling time on the court this year. Shapovalov has failed to qualify for the quarterfinal or beyond in the three Grand Slams this year.
The Tel Aviv-born was defeated by Hubert Hurkacz of Poland in the third round of the Australian Open (7-6, 6-4, 1-6, 4-6, 6-3), Spain's Carlos Alcaraz in the third round of the French Open (6-1, 6-4, 6-2) and Russia's Roman Safiullin in the fourth round (3-6, 6-3, 6-1, 6-3). On the other hand, Bjorklund failed to qualify for the main draw in any of the Grand Slams and was knocked out from the qualification rounds.
Source: tennisuptodate.com/other/denis-shapovalov-announces-engagement-to-fellow-tennis-player-mirjam-bjorklund
Raducanu Comeback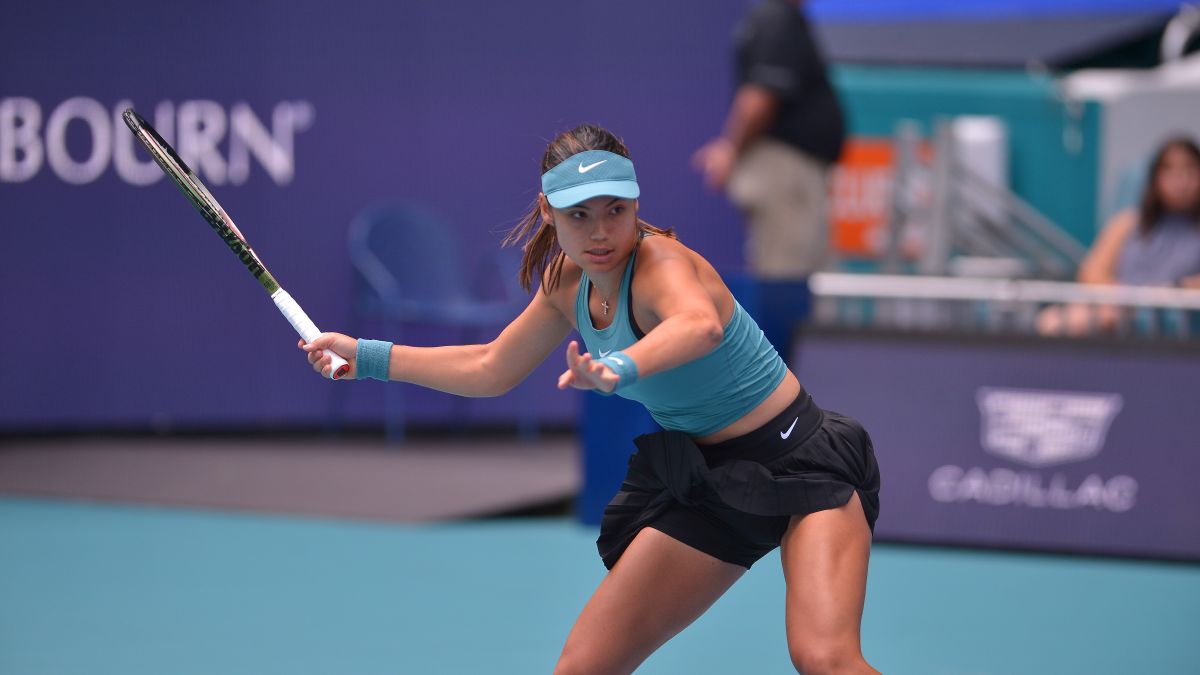 Emma Raducanu shared a cryptic message on Twitter about her return to tennis. The former world No. 10 has been away from the courts since April of this year when she participated in the Stuttgart Open on clay and suffered a defeat in the first round against former French Open champion Jelena Ostapenko with a score of 2-6, 1-6.
After playing only five tournaments this year due to physical complications, Raducanu decided to undergo surgery in May on both her wrists and one of her ankles. With some uncertainty surrounding Raducanu's comeback to the WTA tour, there was little clarity about her return to competition, although she has been seen with bandages on her hands recently.
The 20-year-old tennis player shared a message on Twitter, updating her fans about her work to make a comeback to competitive play. "Today was a good day – 🧽🎾" Emma Raducanu will make her return to the tennis court in the exhibition event in Macao, China in December of this year. She has been confirmed to participate in the mixed tournament that will take place at the East Asian Games Dome. Several other top players will also be participating in the event, including the local 23-year-old player Yibing Wu and American top-10 players Taylor Fritz and Frances Tiafoe. Swiss Olympic medalist Belinda Bencic, who won a medal at the Tokyo 2020 Olympics, will also be part of the tournament.
The presence of Raducanu and Yibing Wu, who won the ATP 250 Dallas Open this year, has been highlighted by Luiz Carvalho, the Senior Vice President of IMG: "Emma's Chinese roots and her remarkable rise to stardom by winning the US Open have made her a global sensation, while Wu Yibing's historic feat as the first Chinese national to win an ATP tournament has significantly elevated his standing in world tennis," Carvalho said.
Source: tennisuptodate.com/wta/raducanu-in-cryptic-tweet-surrounding-tennis-comeback-today-was-a-good-day
You may also like
Calendar
September 2023
M
T
W
T
F
S
S
1
2
3
4
5
6
7
8
9
10
11
12
13
14
15
16
17
18
19
20
21
22
23
24
25
26
27
28
29
30